BLACK BOX
MORE THAN SAFE
Safe against water and fire
A special safe that protects your valuables, documents, souvenirs, photos, as well as your electronic data from floods for at least 5 days.
Safety class Z2 and S1, Certificate 15RU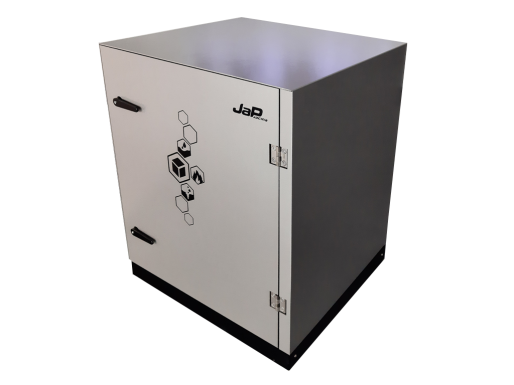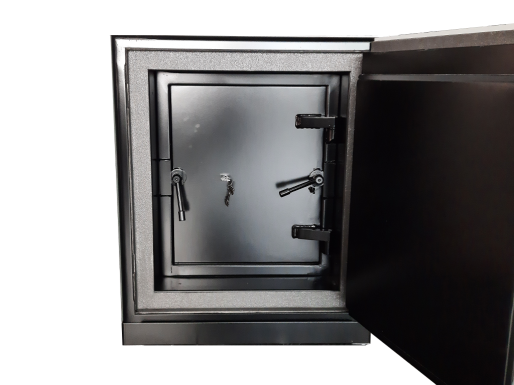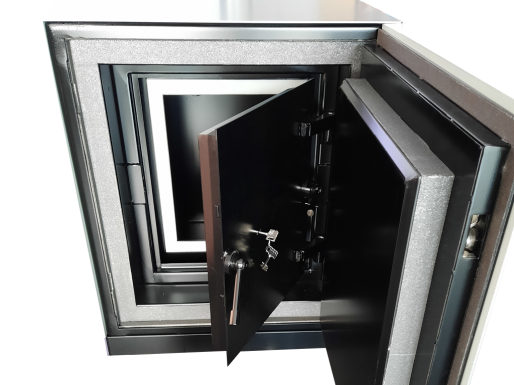 Interested in this product? Watch the video:
AUTOMATIC SEALING
BLACK BOX automatically seals, due to its sensors for water detection, by means of blow sealing. It is 100% impermeable, which protects everything kept inside.
FULL SUBMERSION
Commonly available safes marketed as being waterproof protect solely from water with flooding of up to several centimeters in height. BLACK BOX is designed for full submersion in a pool of water at least 3 m deep.
WATERTIGHT FOR AT LEAST 5 DAYS
Besides basic anti-theft features, the BOX´s construction is designed to make sure it is watertight even in case of full submersion. Due to its backup source, full operation is guaranteed, even in case of power failure.
| Model | Capacity | Dimensions (w × h × d) | Weight |
| --- | --- | --- | --- |
| BB09 | 85 l | 525 × 610 × 450 mm | 110 kg |
| BB10 | 130 l | 625 × 1060 × 500 mm | 130 kg |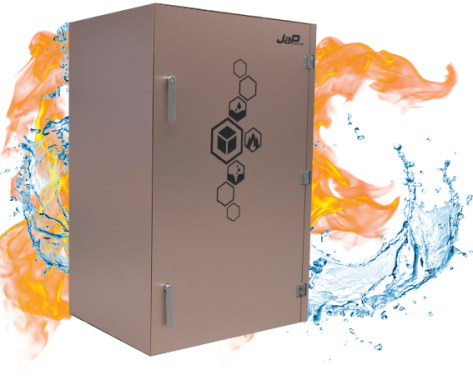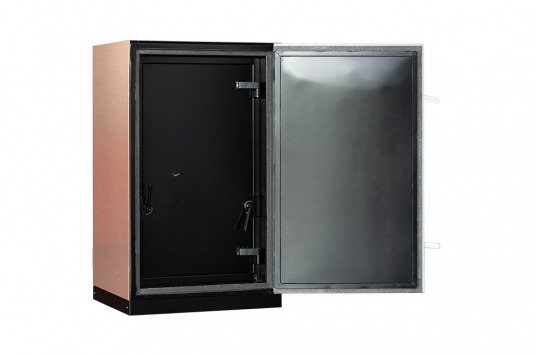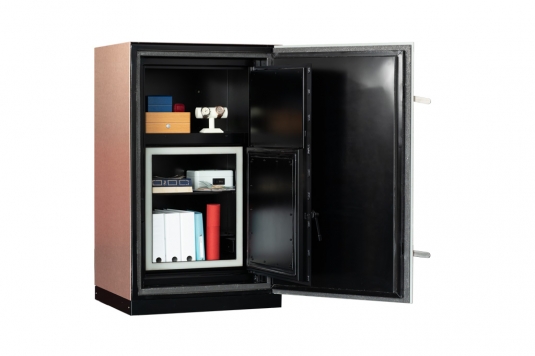 Interested in this product? Watch the video:
The fireproof version of the BLACK BOX protects valuables, documents, souvenirs, photos, and your electronic data from floods and fire.
The watertightness is also tested at a water level of 3 m for at least 5 days. In addition, the BOX is insulated according to the European standard S60 and can therefore withstand the heat of a fire with a temperature of 1400 ° C for at least 60 minutes.
CONFIDENCE IN QUALITY AND FUNCTION
The BLACK BOX has passed all standard tests for safety cabinets. It has successfully met all requirements for achieving safety class Z2, S1 and 15RU certification.
| Model | Capacity | Dimensions (š × h × d) | Weight |
| --- | --- | --- | --- |
| BB09 | 118l | 674 × 604 × 760 mm | 250 kg |
| BB10 | 228l | 724 × 607 × 1160 mm | 320 kg |
EXTRA EQUIPMENT
GPS MODULE
The BOX can be fitted with a GPS module which enables simple localization of its current position.
DATA STORAGE
An integrated safe data storage with a capacity of up to 24 TB enabling connection, synchronization, and backup of data from computers and mobile devices.
EARTHQUAKE SENSOR
The BLACK BOX can also be equipped with a shock sensor, which automatically activates the sealing in case of earthquake or explosion.
BATTERY STATUS SIGNALS
LEDs on the side of the box.
FIREPROOF AND WATERPROOF DATA STORAGE
Integrated safe data storage secures and protects your personal or company data. It enables quick and remote access to data from almost any device connected to the internet. Data storage is propelled by the Synology DSM operating system and it is compatible with Windows, Apple, Linux, iOS and Android. Being interconnected with Synology guarantees world-class level DSM applications and operating systems.
| FIREPROOF | WATERPROOF | PRIVATE CLOUD | SAFE |
| --- | --- | --- | --- |
| Protects against fire data loss up to 844ºC / 1550ºF | Water protection | Access your data from anywhere on any device | Kensington security lock |
---
SECURITY BOX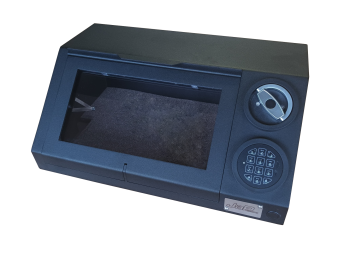 Safety deposit box for everyday use.
It serves to prevent unwanted use or theft of documents, payment cards, cash, house or vehicle keys. In addition, it can be used to store short firearms and other important items.
It meets the requirements of burglary resistance of at least 15 RU according to ČSN EN 1143-1 and is equipped with a class A lock according to ČSN EN 1300.
The unique design in the form of a display case, in addition with built-in lighting, allows a quick overview of the contents. The numeric keypad provides easy and quick access for the owner.
The product can be mounted on the wall and prevent possible theft.
The SECURITY BOX can be purchased separately or as a supplement to the BLACK BOX.
Interested in this product? watch the video: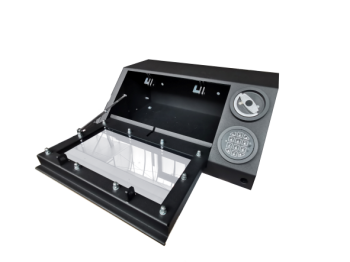 ---
| | |
| --- | --- |
| Width | 500 mm |
| Height | 200 mm |
| Depth | 315 mm |
JaP-Jacina, s.r.o.
Nákladní 1486, 295 01 Mnichovo Hradiště
+420 800 700 060
+420 326 773 454